The Samsung Galaxy S3 (SIII) is one awesome piece of hardware: not yet available (but can be preordered for $774) it already beat Apple's iPhone in preorders: over 9 million people already ordered Samsung's Smartphone
"Samsung's new Galaxy S3 phone has been pre-ordered by more than 100 global carriers, who expect to sell at least 9 million devices at launch." (via telegraph).
I am still deciding if i go for the Samsung Galaxy SIII Gt-i9300 or the much cheaper Samsung I9250 Galaxy Nexus, which already sells for $389.99. I am not sure if I really need the quad-core CPU and the larger screen; also the battery standby and talking time seem to be quite similar. Anyone can help me make my decision? ;)
Samsung Galaxy S III was officially announced by Samsung after a recent leak on the Amazon germany website. It offers a large 4.8-inch Super AMOLED display with a resolution of 1280x720 and measures nearly 20% taller and wider than the iPhone 4S, but is slightly thinner and lighter. It includes an 8-megapixel rear camera and a 1.9-megapixel front camera that can be used for face recognition and tracking features. Among the other possible ways to control the phone are voice, and motion recognition, including a "S Voice" feature which is quite similar to Siri on the Apple iPhone.
Samsung is also showcasing a new Music Hub service integrating both a streaming service and an iTunes Match-like scan-and-match service to provide users with access to their own music from anywhere - music "clouds" are quite common these days.
While not available on the US Amazon site yet at the time of writing, the Samsung Galaxy S3 can be already preordered on the german Amazon Website for 599€.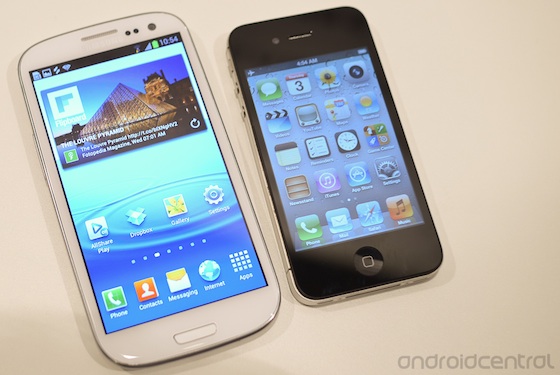 Samsung Galaxy S III next to the iPhone 4S (Source: Android Central)
Earlyadopterdemands reported that the Samsung Galaxy S3 surfaced on the german Amazon Website: Specs are quite clear now. The Smartphone features a 4.7inch super-AMOLED touchscreen and a quad-core CPU running at 1.5Ghz (or 1.8GHz). In difference to the Samsung Galaxy Nexus, the Samsung Galaxy S3 can hold a microSD card to increase storage up to 32GB. (it remains unclear if that means 32 GB in total, or 32 additional Gigabytes).
Furthermore, Samsung is currently teasing us with more information on their website www.tgeltaayehxnx.com. Official release date of the Samsung Galaxy S3 is Max 3rd, according to Samsung.
Since my iPhone 4S was stolen I need to chose a new mobile phone. As I decided to go with an Android device next, I wanted to share my research and opinions on three of the hottest Android powered mobile smartphones out there.
First of all, we have to be clear that those devices are already full blown computer/console replacements, for their CPU speed and GPU power. But what about the only things I personally care about: a high resolution screen and long battery life?
Here is a specs roundup:
HTC One X
LG Optimus 4X HD
Samsung Galaxy Nexus I9250
HTC One X - people call it the King of Android mobiles. Quad Core and fastest phone out there, best screen evar. Only a bit pricey.
LG Optimus 4X HD: LG's new superphone. Not really out yet, but specs look promising.
Samsung Galaxy Nexus I9250: a cheap bargain for what it offers. No SD-card slot though.
please treat the benchmarks with some grain of salt: they reflect individual seettings of individual people and should just give a brief overview of what the phones are capable of.
Quadrant benchmark: 4,907
Quadrant benchmark: 4,512
Quadrant benchmark: 2140
AnTuTu benchmark: 11542
AnTuTu benchmark: 11,147
AnTuTu benchmark: 6,149
CPU: 4x 1.5GHz Cortex-A9 (nVidia Tegra 3) • GPU: GeForce ULP (nVidia Tegra 3) • RAM: 1024MB • 1280x720
CPU: 4x 1.5GHz (nVidia Tegra 3) • GPU: GeForce ULP (nVidia Tegra 3) • RAM: 1024MB • True HD IPS 1280x720
CPU: 2x 1.2GHz Cortex-A9 (TI OMAP 4460) • GPU: PowerVR SGX540 • RAM: 1024MB • 1280x720 Super AMOLED
Conclusion
* if you are on a budget, go for the Samsung Galaxy Nexus. It currently sells for $450 new, which is a bargain for what it offers.
* if you care about the best screen, go and get the HTC One X. For a price of $650 it is not exactly cheap, but the 4.7 Inch 720p HD Screen (1280 x 720) is really mind blowing. Going into details - the HTC One X screen has not such a good black level as the Samsung Galaxy S2, although wins when it comes to realistic color representation.

(image via soyacincau.com)
On the horizon
If you have time, maybe you want to wait for the Samsung Galaxy S3, which is said to come with a 4.6-inch Super AMOLED Plus full HD screen and 1,280×720-pixel resolution. Rumors suggest that the S3 might come with an edge-to-edge display and a much larger chassis. Samsung might launch the S3 as its first phone with a 3D screen and a peculiar S-shaped bend in the 4.6-inch screen. The S3 can also receive a revamped light and scratch-resistant ceramic encasing. The processor could be a quad-core ARM A9-based Exynos 4212 chipset, clocked at 1.8GHz with 2GB RAM.
[Update 2012-3-14] Mozilla released the stable version of Firefox 11 today. As of now, Aurora will be the upcoming Firefox 12.
Since the Mozilla Foundation got 300 Million US$ per year from Google to implement Google's search engine as the default one, two new releases of the Firefox Browser have been presented: Firefox 10 (stable) and Firefox 11 Aurora (Version 11). The mobile Android version of the Android implementation gets a new, native UI. That makes the browser faster and it needs less memory besides other improvements and fixes. Firefox Aurora and Beta can be downloaded from Future of Firefox.