Great stuff folks - MacBook Pro Specs leaked short before they will be actually presented on the WWDC 2012: 15" MacBook Pro with Retina Display!
This is epic, I am wondering how much people will get a new MacBook Pro soon, expect the prices of the previous models to drop dramatically: there is already a Apple MacBook Pro MD313LL/A 13.3-Inch Laptop selling (new) for $934, expect prices to drop even more...
here are the leaked specs and model numbers (thanks to 9to5mac)
MC975LL/A – MBP 15.4/2.3/8GB/256GB FLASH-USA
MC976LL/A – MBP 15.4/2.6/8GB/512GB FLASH-USA
MD831LL/A – MBP 15.4/2.7/16GB/768GB FLASH-USA
Frequent readers of this Blog know that I am a Mac user, running several Apple and Hackintosh systems (since 2001). Over the years Apple lost the hardware race and currently the only technology unique to Apple machines is Intel Lightspeed (aka Thunderbolt). Apple moved away from the professional market and is targeting mostly consumers, which also reflects in the supported hardware. Furthermore the future of the Mac Pro line remains unclear, since Apple might drop the line completely (it might face the same fate as the XSERVE line).
Here are my thoughts on why Windows 7 and Windows 8 might be a better choice for media producers and enthusiasts
* Current graphic cards are not supported on Mac OS X
Although there is some serious efforts by netkas in getting AMD 6950 and 6970 GPUs to work with Mac OSX, there are no currently known configurations that will work with Hackintoshes. The 6950/70 will work with patched KEXTs on Mac Pro Systems, but wtf? We have already the AMD Radeon 7970 Graphic Cards available for a decent price, so why should we bother with Apple being too late to the party? Unless there is a new Mac Pro with 79xx GPU coming out, we won't see any kexts soon.
* No SLI or Crossfire support and no dual-GPU support on Apple!
Mac OSX does not support SLI or crossfire - hell it does not even support multi-GPU cards such as the AMD Radeon 6990. Dual GPU-cards such as the ATI Radeon HD5970 only run with one GPU disabled on OSX. This is a serious limitation if you are creating media content such as 3D or video.
* Professional SSD-Cards don't run on Mac-based systems
Fast PCI-E cards, such as the OCZ RevoDrive 3 X2 Max IOPS 480GB, PCIe 2.0 x4 (1900 MBPs read/ 1700 MBPs write) or the OCZ Z-Drive R4 R Series (up to 2800 MBPs read/write speeds) are not supported on Mac OSX. The OCZ Revodrive X2 was reported usable with several Hackintosh configurations, but it is not that easy to set up, since some kext-magic is needed.
* Only limited hardware support on OSX, Sandy Bridge-E only with some hackery
Apple Mac OSX supports only very few hardware components, so mostly we have to get parts that are intended for a Mac Pro. There are ways to get to use the Sandy Bridge-E chipsets with Hackintosh (see the nanofunk post: Sandy Bridge-E Intel 2011 Socket confirmed working with Hackintosh), but still it's not easy as pie.
* Adobe Suite runs faster on Windows
Mostly because of all the issues described above, logically the Adobe Suite will run faster on Windows based machines. If Apple can not catch up with the demands of the pro-users and the enthusiasts, it might lose the professional sector after all - so Windows 8 could become the system-of-choice for serious media professionals again.
mupromo is currently offerin a Software Bundle with 11 applications for Apple Mac OS X at an extreme discounte. VMware Fusion would cost normally 49$ alone, here are 10 other apps included for free. For twittering about the discount promo, Aurora Alarm Clock can be received free of charge.
Included Apps in the Software Bundle
VMware Fusion 4
VMware Fusion 4 is the easiest, fastest and most reliable way to run Windows applications and other operating systems on a Mac without rebooting.
DriveGenius 3
Drive Genius 3 is the industry's leading disk utility and the best way to optimize your drive's performance.
PDFpen 5
PDFPen 5 is a PDF toolkit that lets you add text, images and signatures to PDFs -- and much more.
ForkLift 2.5
ForkLift 2.5 is arguably the most versatile utility ever made for the Mac. Originally conceived as a robust FTP client for file transfers, ForkLift has evolved to the point that it can be used as full-blown Finder replacement.
Typinator 5
boosts your typing productivity by automatically inserting frequently used text, graphics, and more
DesktopShelves 2
will organize your chaotic Desktop in no time
Snapheal
new photo retouching tool that's easy enough for beginners to use
Boom
convenient volume booster and system-wide equalizer that lets you boost the volume of your Mac and your music files
Phone to Mac
Phone to Mac transfers files from your iPhone, iPod or iPad to your Mac with ease.
Star Wars TFU (Game)
Star Wars: The Force Unleashed invites you back into the Star Wars universe for another high-energy, intergalactic adventure.
Worms Special Edition
Worms Special Edition is a modern reprise of the classic comic strategy game.
The mupromo bundle sells for $49.99 and is delivered digitally via download. Payment is done via paypal.
98X6AC5GQV8R
[update] Valve fixed the issues for Steam.app on Mac OSX. We will keep the file mirror for Steam active, since there will be faulty updates in the future for sure. Thanks for all the nice responses and donate us some TF2 hats, if you want to thank us ;)
Just had this error after updating Steam.app on Mac OSX Lion 10.7.2, and I am not the only one: it's all over the internet - see the results on google (past 24hrs).
SteamStartup(0xf,0x0xbfffec4c) failed with error 1: Failed create pipe:0
As there were no reports on successfully solving the issues, I tried to solve it by myself.
Although, no luck yet. I will post updates to this issue, once it has been solved. In the meanwhile go Steam Support and paste the following (thanks to acidking)
[UPDATE] SOLVED! just download the mirrored older Steam.app and you are ready to go until Valve fixes this!
Dear Steam,
Ever since your update on the 23rd of Feb, and I can't play any Valve games through Steam on my Mac. I keep getting this error:
Error: SteamStartup() failed: SteamStartup (0xf, 0x0xbfffecac) failed with error 1: Failed create pipe: 0

Many are reporting the same issue on the forums. Please check it out ASAP.
Link to update in question: http://store.steampowered.com/news/7392/

Thank you.
Games affected: Team Fortress 2, Portal (2), Counter Strike.
Please post your comments and issues to this topic below.
Minicraft is the new game from Markus Persson, the developer of the successful online game Minecraft. It was developed for the contest Ludum Dare, where the aim is to create a new game from scratch within 48 hours. Markus Persson just recently stepped back from further development of the Minecraft game, handing all the responsibility to an employee of his company Mojang.
Minicraft is an 8-bit game written in Java (playable in the Browser or via a downloadable version) where resources and materials have to be collected to craft and create something new. Persson told, the higher aim of the game is to kill the only other creature with "consciousness" to be alone forever.
FocusTaiwan reports (via 9to5Mac) that Apple pushing its manufacturing partners to meet deadlines that would allow the company to launch the iPad on Steve Jobs' birthday, February 24th.
According to the report, workers at several iPad component suppliers as well as manufacturing partner Foxconn will have limited time off during the usual Lunar New Year holiday. The Lunar New Year holiday itself falls on January 23rd next year, with workers generally receiving a number of other days off from work around that date.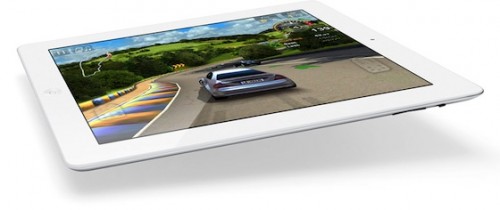 Sources have been reporting a variety of rumored dates for an iPad 3 introduction, with some claiming a debut in the March-April timeframe while others have pointed to a February launch being in the works.
Apple last year launched new MacBook Pro models on Jobs' birthday, although that unusual Thursday introduction was likely a convenient coincidence driven by the debut taking place during the Presidents Day holiday week.
[original via macrumors.com]
The Apple Macintosh (MAC OSX) Platform is catching up with Windows regarding gaming - while this for sure is attributable to the Steam platform by Valve (which are responsible for great Games such as Portal 2), the latest (and cheapest) way to play quality games on Macintosh are to make use of the "free to play" feature of Steam:
Those games are free to download and free to play. Valve makes money if you are ordering additional items such as weapons, mods and so on. On the example of Team Fortress 2: if you ever spent a dime on the game (or would buy it now) you would get premium features: more Items, full "trading" (sell and exchange virtual goods), gifting, etc.
While this is a new approach to capitalizing games, this can be seen as a positive path, the gaming industry is taking. Why? Because the games have to be maintained longer and the communities around the games can emerge. This means: addons, mods, hacks and whatnot, resulting in "ludic artefacts" (as outlined in the german book "Gaming 2.0"). Also, the ludic artefacts of Team Fortress 2
on eBay are increasing daily.
Currently, the only two Mac compatible games are Team Fortress 2 and Spiral Knights. On Windows, there are much more titles available: Global Agenda, Spiral Knights, Alliance of Valiant Arms, Champions Online, Forsaken World, Team Fortress 2.
To play those Windows-only games on your Macintosh, you currently have two choices: either use Apple Bootcamp or use Parallels Desktop 6 for Mac. I can totally recomment Parallels Desktop, since the Version 6 has a very fast GPU and game performace (cf. Arstechnica about Parallels Desktop 6 Gaming Performance).
Happy gaming!